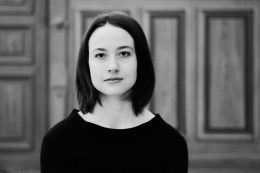 Über Shannon
Shannon Sullivan ist Poetin und multidisziplinäre Performerin.
Ihre klassische Tanzausbildung erhielt sie an mehreren renommierten Schulen der USA, u. a.: Joffrey Ballet School (Stipendium), Boston Ballet School, Steps on Broadway New York (Stipendium) und North Carolina School of the Arts. Zusätzlich schloss sie eine professionelle Schauspielausbildung an der American Musical and Dramatic Academy ab und arbeitete mehrere Jahre als freischaffende Performerin in New York. 2004 zog sie nach Berlin, um sich auf die Kreation eigener Stücke zu konzentrieren.
Ihre Werke legen den Fokus auf die Physikalität von Sprache, die Interaktion von Poesie und Bewegung. "13 poems in a body" (2009), "Broken: Part I" (2010) sowie "13 poems in a body – part one: take two" (2011) erkunden dieses Thema. Seit kurzem arbeitet Shannon in ihren Stücken auch mit Live-Musiker/innen, so etwa in "S.N.A.K.E. – häutung in progress" (2014) sowie in ihrem aktuellen Stück "the story written on the butterfly's tongue".
Shannon bietet einen Newsletter an und ist auch auf Facebook und Soundcloud zu finden.